Our Philosophy
We believe children are unique, highly capable beings who develop at their own pace. It is the role of educators to nurture, support, and celebrate each child as an individual.
We cultivate the ability to wonder, to question, to explore, to discover, to think critically, and to be compassionate as students pursue their interests while mastering the skills required to be happy, effective members of society.
Our Mission
Our purpose is to educate students to be the best versions of themselves as we provide them with the essential tools to be critical, creative, compassionate thinkers and responsible, engaged citizens ready to transform the world.
In 2011, two mothers founded La Piazza Academy. Jessica Pinto and Nita Yeung were motivated by a vision to provide high-quality education and innovative programming for young children. They were inspired by the Reggio Emilia philosophy, social constructivist theories as well as Miami's multi-lingual community.
La Piazza Academy officially opened its doors on June 13, 2012. The elementary school welcomed its first class in August 2016. In January 2017, the school opened a second location in Coconut Grove to meet the demand for high-quality, progressive education in the community. Children and families are welcomed into the school and make La Piazza Academy their second home away from home.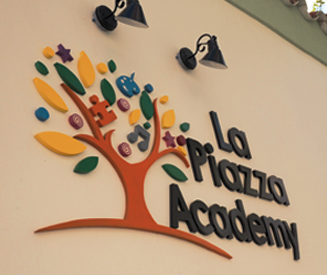 Coconut Grove Campus
The four-story, state-of-the art facility is home to preschool and elementary school. The natural, tranquil design built for 21st century community learning offers children many spaces to express their talents.
Features of this campus include:
Indoor Atelier
Outdoor Atelier
Outdoor Learning Spaces
Makerspace
Library
Community Room
Music Room
Natural Playground
Butterfly Garden
Outdoor Dining Terrace
Multi-Use Court
Kitchen
Makerspace
Vegetable Garden
Accredited Professional Preschool Learning Environment is a national early learning program accreditation. With over 1,000 accredited programs and many more engaged in the process, APPLE is one of the largest accrediting agency for early learning centers. The APPLE Accreditation ensures that the center is exceeding the state standards in child care.

In 1996, the Florida Legislature established the Gold Seal Quality Care program to acknowledge child care facilities and family day care homes that are accredited by recognized agencies and whose standards reflect quality in the level of care and supervision provided to children. This requires participating child care facilities and homes to maintain quality care accreditation and higher education standards for staff.
The Early Learning Coalition of Miami-Dade County is a nonprofit organization dedicated to ensuring early care and education for children in Miami-Dade. Their mission is to ensure a comprehensive and integrated early learning system for all families and their children, birth to 5 years, ensuring high-quality programs throughout Miami-Dade and Monroe Counties, so children enter school ready to learn and succeed in life. La Piazza Academy was recognized by the Early Learning Coalition in 2015.